"Tsunagu-Wall" in Philadelphia Inquirer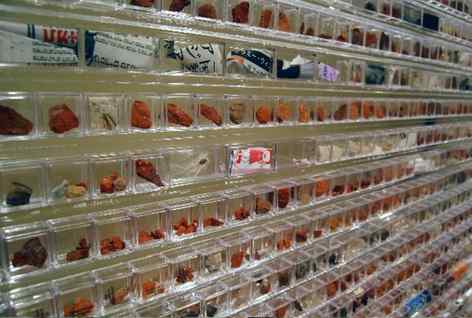 An article about "Tsunagu-Wall" was in Philadelphia Inquirer.
November, 2009 | http://www.philly.com/philly/entertainment/67562527.html
by Edith Newhall
"Calm and quiet
The Fleisher Art Memorial's first Challenge exhibition of the fall season is subtler than most previous Challenge shows, partly because none of its three artists' works incorporate video or audio components, but mainly because their contributions seem born of a quiet, methodical purposefulness. It's not a bad thing, individually – each artist has something interesting to say – but the overall effect of these three together had me wishing for a diversion.
Sharka Brod Hyland's large ink drawings take over the first gallery with ease, their images of curiously lumpen, mountainlike shapes reminiscent of the late Philip Guston and Trenton Doyle Hancock's more recent "Mound" figures. The fact that they're made up of myriad adjoining quadrangles makes the drawings' scale more impressive, and the irregularities in Hyland's obsessive patterning keep them from being a puritanical exercise.
Keiko Miyamori displays her collected objects in much the same manner that Hyland draws. Tsunagu-Wall is made up of about 4,000 clear plastic boxes containing fragments of brick, concrete, and metal that Miyamori retrieved from the roots of an uprooted tree at a Philadelphia construction site, as well as objects sent to her by people all over the world in exchange for her objects. Miyamori's Tsunagu-Books displays 600 books borrowed from her friends, each with a second protective cover made from a frottage of one of 600 trees. But her Tsunagu-Root, of debris from a tree's roots embedded in a resin cube, ostensibly the simplest of these works, is the most effective. (A larger version is on display outdoors at Shelly Electric Inc., 12th and Callowhill Streets).
The jewelry objects of Joshua Ryan DeMonte are frankly amazing and not a little scary; they accomplish precisely what DeMonte intends, too, defining "architectural space around the body, altering our perception of the figure." Whether or not you can imagine yourself wearing one of his enormous, swooping architectural forms is beside the point. It's easy to imagine clinging desperately to one of his balconies."
This entry was posted on Wednesday, November 4th, 2009 at 4:51 pm and is filed under blog. You can follow any responses to this entry through the RSS 2.0 feed. You can leave a response, or trackback from your own site.
Leave a Reply